The great departure for north america


(97 k)
May 1, 1845, on board the Brilliant, the ship carrying Sandford Fleming and his brother David to the New World.
As the evening advanced the storm grew worse. … I never expected to see daylight again, when a great wave swept above our heads. It had a sound as if the sea was closing over us. We slept none all night…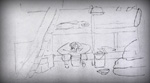 (30 k)
What a harrowing beginning to the journey! Sandford was so convinced he would die that he threw a bottle into the water containing a last farewell to his family. A few months later, his father in Scotland actually received the message! Fortunately, the sea became calmer and Sandford was able to enjoy the trip, sketching ships as they passed and talking with the crew.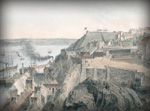 (66 k)
The Fleming brothers arrived in Quebec City after five weeks at sea. They continued inland to Peterborough, in Canada West (future province of Ontario), where they found a warm welcome at the home of a relative from Kirkcaldy, Dr. Hutchison, and his wife.
The young Flemings were now ready to begin their new life in North America. That year, 25,375 immigrants from the British Isles entered the New World, as the Flemings did, through the gateway of Quebec City.
The works of our students:


The long voyage (.pdf - 1Mb) | Transcription
Note: For best viewing of this site, you will need this plugin:


Download Adobe reader