Artist, scientist and inventor
New Year's Day, 1845
At Mr. Sang's through the day and dined at home with a few friends. Began in the evening to draw on stone Kirkcaldy harbour to be lithographed by Mr. Bryson.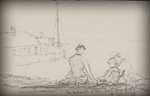 (38 k)
Work, family, friends, art… and a few projects or inventions to think about: Sandford Fleming's needs were met. The indefatigable Fleming was born January 7, 1827 in Kirkcaldy, Scotland. He grew up surrounded by his parents, five brothers and two sisters. Very early, he showed talent for mathematics and drawing.
He enjoyed producing drawings of Kirkcaldy, a sea port. He also enjoyed making portraits and even invented a "portrait machine" by projecting and tracing his parents' silhouette on a wall. His drawing and mathematical skills made him an ideal candidate for the surveying profession.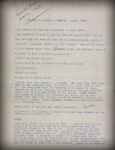 (76 k)
In September 1841, he was engaged as an apprentice by John Sang, a well-known Kirkcaldy engineer and surveyor. Fleming worked for him for three years before crossing the Atlantic to work as a surveyor in Canada.