Early days at the Northern Railway


(99 k)
As a surveyor and engineer, Sandford Fleming worked on the development of some of Canada's most important railways: the Northern Railway, the Intercolonial, the Canadian Pacific.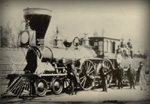 (62 k)
The first project in which he was involved was the Ontario, Simcoe and Huron Rail-Road, which was to become the Northern Railway; it linked Toronto to Georgian Bay.
Fleming was hired by the company in 1852 and became chief engineer five years later.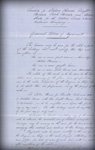 (51 k)
This was the beginning of a railway career that was to span over thirty years.