Wooden bridge or metal bridge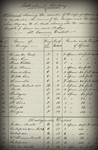 (76 k)
While working for the Intercolonial Railway, Sandford Fleming introduced novel techniques to collect soil samples along the route on which rails would be placed and to build prestressed piers to support bridges.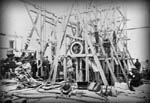 (86 k)
He recommended the use of stone and metal for bridges.
At the time, steam locomotives produces sparks that could set fire to a wooden bridge. Metal bridges, although they required a large initial investment, were stronger and had a longer life span.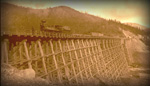 (59 k)
Fleming's recommendations created problems in that the railway commissioners who were supervising construction usually favoured wooden bridges in order to decrease costs. Convinced he was making the right choice, Fleming appealed to Prime Minister John A. Macdonald.


(65 k)
Disappointed by the latter's lack of support, he then presented his case to the Privy Council of Great Britain, where he finally won after two and a half years of argument.