Miles and miles to be surveyed


(90 k)
After organizing the surveys needed to build the Intercolonial Railway, Sandford Fleming took on the same job for the Canadian Pacific.
Twenty-one teams, for a total of 800 men, surveyed Western Canada from Lake Superior to the Pacific coast. Fleming set off on a reconnoitring expedition in the summer of 1872 with a small group that included his son Frank Andrew, the Reverend George Monro Grant, Dr Moren, the botanist John Macoun and native guides.
On foot, on horseback and by canoe, Fleming and his companions travelled for three months, looking at the country with a critical eye in order to develop the best proposals for the projected railway line from Ontario to British Columbia. Everything was noted: topography, farming and settlement potential, flora and fauna of each region, inventory of natural resources available for economic development, etc.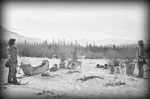 (51 k)
The story of this expedition, written by George Grant, was published in 1873 under the title Ocean to Ocean and was a considerable literary success.