The Intercolonial Railway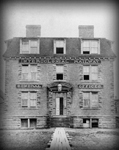 (79 k)
After working for the Ontario, Simcoe and Huron Rail-Road, Sandford Fleming devoted his skills to another, crucially important railway section: the Intercolonial, linking the Maritimes and Canada East. Fleming was chief surveyor.


(97 k)
Among 15 possible routes, in 1865 he suggested the one that goes along Chaleur Bay and crosses the Matapedia valley to reach the St. Lawrence.
Fleming later became engineer-in-chief responsible for building part of the railway.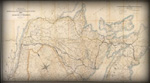 (42 k)
He travelled regularly to Ottawa to defend his decisions. He had a memorable quarrel with railway commissioners supervising the project over the choice of materials for railway bridges. Fleming worked for the Intercolonial until its opening in 1876